The All-New Vado SL is Here
Thursday 14 May 2020 Filed in: General
It's You, Only Faster!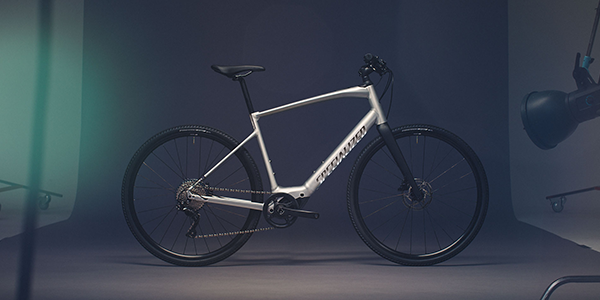 We've reached a tipping point. Sixty-eight percent of the world's population will live in and around cities by the year 2050. Cities from Bogota to Berlin are re-thinking road space with an eye toward two wheels instead of four. The e-bike is replacing the car for many short-distance trips, unhindered by traffic, the search for parking, and costly monthly payments. According to recent studies, e-bike riders get more exercise on average than conventional riders, thanks to the fact that e-bike riders are riding more often and for longer distances. There has never been a better time to invest in our health, our community, and the future of our planet.

Introducing Vado SL - It's You, Only Faster.
There's no other e-bike out there with ride quality, range, and power like this, at a weight that's light enough to carry. Pedal, then go - over hills, past traffic. Cruise to 15 mph, for up to 80 miles. And at 40% lighter than the average e-bike, it's built to bring with you: up the stairs, down the hall, on the train, to the office, and everywhere you go.

So Light You'll Forget It's Electric
SL stands for Super Light. That's right, Vado SL is up to 40% lighter than the average e-Bike. We've taken the same Specialized SL 1.1 system developed in-house to meet the needs of the world's most discerning road and mountain riders with the Turbo Creo SL performance road bike and Turbo Levo SL trail bike and brought an entirely new and more manoeuvrable experience to the Vado family of recreation and commute-focused e-bikes.



Reliability
Priority number one is getting where you need to go. Tested across multiple continents in all weather conditions, Vado SL is designed to keep you moving. Vado SL delivers the defining combination of weight, power, range, and ride quality, giving you the confidence to ride more often and to places that you never imagined you would.

Portable Range Extender
Vado SL delivers the security of an integrated 320Wh internal battery for up to 80 miles of range with the flexibility of an optional Range Extender for up to 40 miles of additional pedalling assistance. The Range Extender is fully removable, compact, and easy to charge wherever you are.

Performance
California designed and Swiss-engineered, the new Specialized SL 1.1 system represents the very best in superlight e-Bike performance. Ultralight and quiet, the Specialized SL 1.1 system doubles your effort with a smooth power delivery. No unnatural power curve, lurching, or motor jumps. It delivers up to 240 watts of power that are in sync with your cadence all the way to 15 mph. In the event that you outpace the motor's assistance, there's no awkward cutoff or drag, just smooth riding for miles.

Confidence
When you're comfortable, you're confident. Vado SL is built to deliver comfort without compromising capability. High-volume tires soak up imperfections, handle well on both pavement and dirt, and deliver stability at all speeds. Future Shock technology on 5.0 models brings ultralight suspension to your ride, reducing the impact of rough roads and terrain by nearly 40% compared to bikes with bulkier, heavier front suspension forks. All Vado SL models are equipped standard with hydraulic disc brakes for maximum stopping power, simple 1x shifting for easy operation, integrated front and rear lights to see and be seen, high visibility reflective decals and tires, and Body Geometry saddle and grips.

Mission Control
Connect your bike to your phone and change everything: Get where you're going with plenty of charge by controlling the power output, diagnose potential service needs, record and share ride info with friends, and even give your bike its own custom name.

FAQ's

How much tyre clearance does the Turbo Vado SL have? The Turbo Vado SL has clearance for 42mm tyres with 700C rims. With fenders, there's still clearance for 38mm tyres.

How much does the motor weigh? At just 1.95kg, the SL 1.1 Motor is essentially half the weight of other crank-based motors.

How much power does the motor output? Our SL 1.1 motor amplifies rider power up to 240 watts and 35Nm of both peak and sustained power. We tuned our motor to deliver constant, strong support across a wide cadence range for a very natural feel while pedalling.