Introducing Turbo Creo SL—It's a Whole New Sport!
Tuesday 16 July 2019 Filed in: General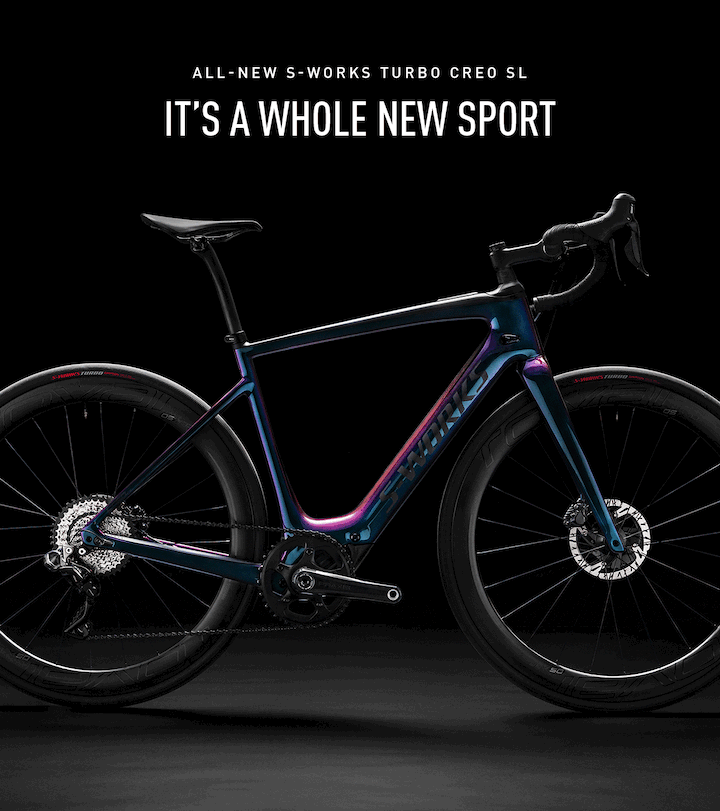 Meet the Turbo Creo SL, the first ever Turbo Road Bike. It delivers a light and lively road bike feel for
the performance rider with mountain-flattening power, range for epic rides, and seamless
connectivity. No system on earth could create the ride we wanted, so we built one from the ground.
It's a mighty cocktail of power, range, ride quality, weight, and efficiency that makes you a monster in
the saddle, with the versatility that allows it to easily transition from road to gravel. You'll be riding
farther and faster than you ever imagined, all with a real road bike feel. The Turbo Creo SL doesn't
just redefine the e-road category, it creates a whole new sport. It's You, Only Faster.

At just 12.2kg, the S-Works Turbo Creo SL is the lightest e-road bike of its kind and features the Future Shock 2.0.

The 240-watt Specialized SL 1.1 Motor is smooth, silent, and powerful, offering high power and efficiency at a natural pedalling cadence up to 15mph. Markets must speed adjust.

Unbeatable range of up to 120 miles ( Euro: 195km ), with 80 ( Euro:130km ) coming from the 320 Wh internal battery and 40 ( Euro:65km ) from our optional 160 Wh range extender. A range extender is included with every S-Works, and it's available aftermarket for other Turbo Creo SL models.

Our Mission Control App works with a built-in ANT+ power meter to provide unprecedented ways to personalize your Turbo Creo SL, tune your power delivery, control the range, and to share riding data with our Turbo Connect Display or third-party ANT+ display devices.

The Turbo Creo SL EVO comes equipped with Pathfinder tires, Adventure Gear bars, and a dropper post for legendary gravel adventures.

With only 250 ever being made, and a mind-blowing build, our 11.9kg Founder's Edition S-Works Turbo Creo SL will be an instant classic. A custom Specialized SL Kit will further complement this exclusive limited-edition bike.